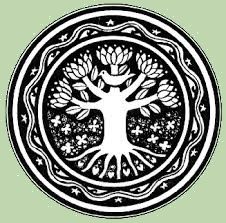 SCHOOL OF LIVING NEWS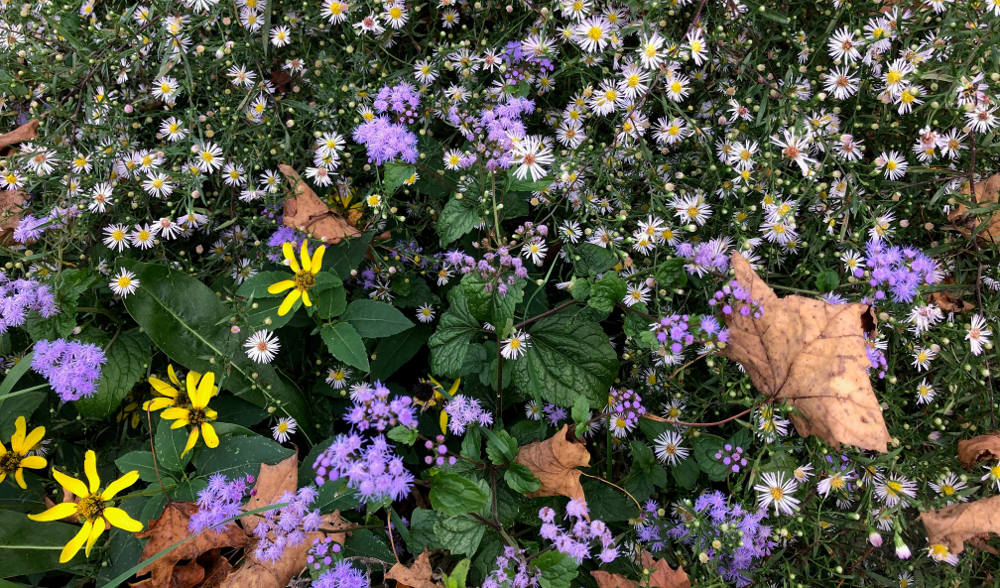 Welcome to our School of Living electronic newsletter where you can catch up on what is happening in our land trust communities and SOL committee work.
WE HOPE TO HEAR YOUR VOICES AT THE SOL QUARTERLY BOARD MEETING
OCTOBER 9-11, 2020
SOL in collaboration with StellaLou has decided for health and safety reasons to host these meetings via Zoom.

Please reference the schedule along with the ZOOM call information to take part. This quarter we will be including check-ins with the board meeting instead of as a separate call, you will not see it on this schedule, but it will be on the agenda. 2020 Q4 Announcement and Schedule

If you plan on attending the board meeting portion of this weekend, feel free to email hlevasseur@schoolofliving.org for the board packet which will include agendas, reports, and supporting documents. Board packets will be sent out to all board members the week before the meetings automatically.
SAVE THE DATE: OCTOBER 7, 2020, 7-8:30 p.m. EST
STEVE HERNANDEZ OF PINE RIDGE RESERVATION, SOUTH DAKOTA
Steve Hernandez will discuss food sovereignty and self reliance on the road to national sovereignty in the context of his work on Pine Ridge Reservation, SD.


Steve, an enrolled member of the Oglala Sioux (Lakota) Tribe and a US Army Veteran, has been active in community development, local activities and programs on Pine Ridge Reservation for many years. He works with federal, tribal and state organizations, community groups, schools and residents to find inventive ways to bring the benefits of many types of education to the Lakota people. His experience, expertise and strong commitment to local growth have proven invaluable in implementing vocational education in ranching, farming and agriculture. He's contributed to bringing self-sustaining practices to the Lakota people. Steve's contributions develop from his Lakota heritage, his life on the reservation, and his view of the Lakota's historical experience of systemic racism. Steve will be joined by Cinnamon Cuny, also of the Lakota Nation and a recent graduate of Oglala Lakota College, who gives voice to the dreams of a younger generation. Please join this webinar and explore ways we can share ideas and learn practical solutions from each other across the divide of culture, and distance.
EMBRACING LIFE IN AN AGE OF ECOLOGICAL DESTRUCTION AND CLIMATE CHAOS: AN ONLINE MINI-WORKSHOP WITH BONITA FORD
November 4, 2020, 7-8:30 p.m. EST
Zoom Link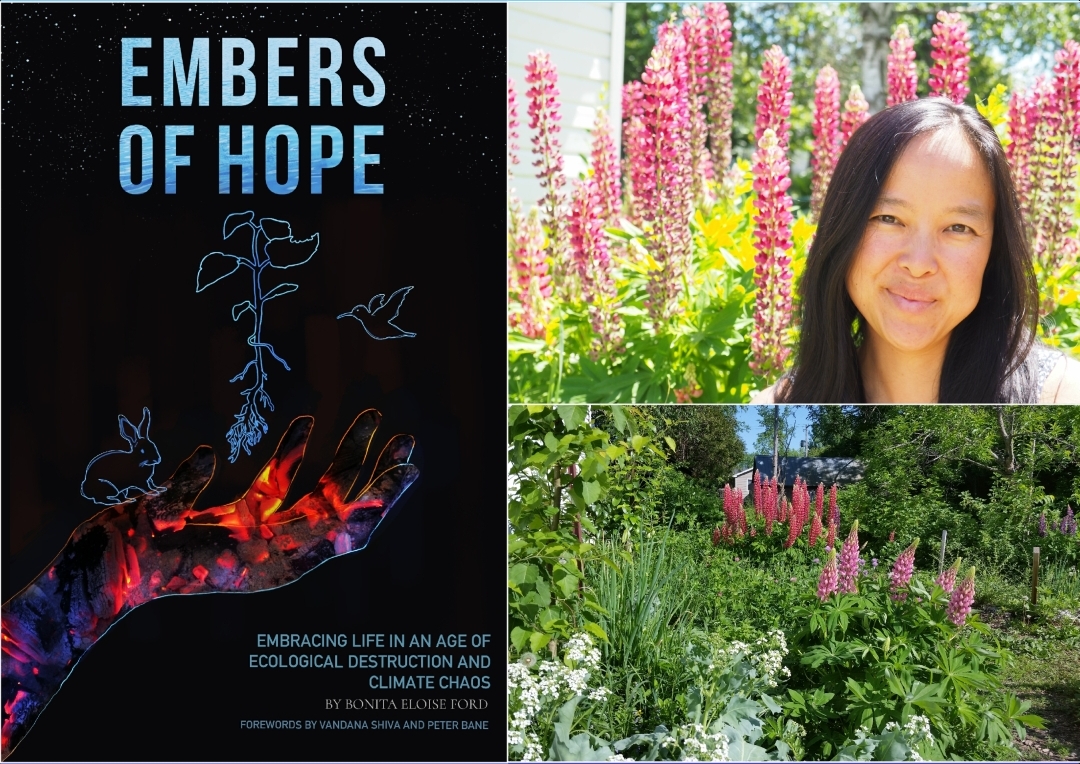 Image courtesy of Bonita Ford
We are so excited to have Bonita join SOL for this November event!

In these challenging times, as we collectively face painful realities and despair, it also serves us well to cultivate hope and take action. This session addresses self-care, explores our mortality along with the global ecological crisis, and asks how to create more meaning through taking care of the life around us.

Join us for a:
-Short reading from the new book, "Embers of Hope: Embracing Life in an Age of Ecological Destruction and Climate Chaos."
-Guided visualisation.-Personal reflection.
-Small group discussion.
-Q&A with the author.

BIO:
Bonita Eloise Ford, M.A., B.SC.
Bonita teaches permaculture (ecological design), Nonviolent Communication (cooperative communication), Reiki (energy work), and gardening. She has led workshops around the world for over 18 years. Bonita loves eating wild foods, talking to the plants, and dancing barefoot on the Earth.
www.embersofhopebook.com
.
GOING SKOOLIE
by Kara Tennyson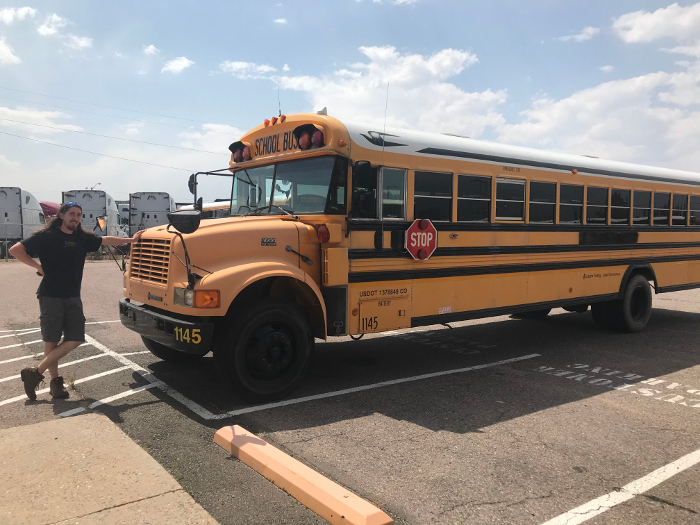 Image courtesy of Kara and Matt Tennyson
New Years Eve, 2019, Matt and I wrote down a list of all the things we wanted to accomplish that year. On that list, we wrote "Buy a house- or say screw it and buy a bus."
We didn't realize that soon, post COVID outbreak 2020, we would do that very thing.
When the pandemic hit, Matt's work dried up. All events were cancelled, states locked down, and we waited. We waited for months on the edge of our seats waiting for the other shoe to drop. Protests, riots, supply chain breakdowns, incompetent leadership, and mistake after mistake left us feeling lost, unsettled, and depressed. Our dreams of buying a house went up in smoke with the economy.
We started to revisit the idea of converting a school bus into our mobile tiny home. Matt researched for months to find our bus. She was in Denver, fresh off the school district routes, and up for auction.
We had no hope in winning her. We had lost an auction bus a few weeks prior and thought for sure we would be outbid. We were so confident, we actually walked away from the auction with 5 mins left because we didn't want to see defeat again.
But when we went back to the computer to see how fate decided, to our shock, we WON. In a flurry we started making plans, travel arrangements, insurance, pet sitters, packing, preparing her parking spot and more. The auction told us we had 10 days to pick her up. On August 31, we flew out to Denver, picked up our rental, and headed to the bus lot.
She was there! She was ours, and now we needed to drive her across the country home. After an overnight in Denver for a bus inspection and the all clear she would safely take us home, we hit the road.
Along the journey we hit truck stop after truck stop, received strange looks from other truck drivers, cooked off of our camping stove out of the rear door, and of course we gave love to all the trucker dogs we could find.
The 12V power outlet in the bus suddenly stopped working on our first night. We needed it to blow up our air mattress so we could sleep on the bus each night. We eventually decided, after 20 minutes of fiddling around with the fuse box, to unplug one of the outdoor soda machines, blow it up really quick, and plug everything back in. Our first night sleeping on the bus was....interesting. It took some getting used to being lulled to sleep by 18 Wheeler diesels idling constantly.
The next night in Kansas, we noticed our mattress deflated during the drive. So at the next truck stop we found the only outlet at the whole stop, inside the men's bathroom of course. We grabbed our extension cord, mattress, and headlamps and blew it up outside of the bathroom. Then we had to squeeze it back into the bus through the rear access door.
Thankfully the mattress held up for the rest of the journey and we got used to sleeping inside a steel tube.
It was a once in a lifetime, 1700 mile journey, with no prior experience, no tags, and sheer dumb luck. We made it back to Baltimore that Saturday and our true work began. We removed the rest of her seats and have started the demo. As of today, she is 85% demoed, and we will move on to the roof raise. We are documenting our journey on instagram and YouTube if anyone is interested in following the journey with us. If you are you can search us on either platform under @thetinytennysons
Our hope is for her to be completed by next year and look forward to seeing everyone in person when we can all gather together again.
With love,
Kara, Matt, Tank and Turner the Bus
Image courtesy of Kara and Matt Tennyson
Indigo: From Green Plants to Blue Textiles
Have you ever grown natural indigo plants to make dye pigment? It's a wonderful way to transform these magical plants into glorious blue textile art you can wear, decorate your home with, or give as a meaningful gift. Indigo is one of the most ancient and global natural dyes, found on 6,200 year-old cotton cloth in the Peruvian Andes. Growing indigo also offers wonderful teaching opportunities for children and adults to interact with plants and natural textiles through indigo dyeing workshops. Caroline Harper and her husband David (a former SOL board member) have been doing just that through her South Carolina-based business, CHI design indigo (

www.chidesignindigo.com

).
CHI design indigo's mission is to revive indigo in South Carolina through the production of dye powder, the creation of beautiful home and fashion textile products, and exceptional hands-on educational experiences. These products and experiences are all offered with a focus on bringing back indigo as a viable crop for small farmers and an opportunity for textile artists. This is a critically important part of long-term healing needed in a region where indigo was grown in the mid 1700's by enslaved people on vast plantations to produce dye for export to European mills.
Caroline started CHI design indigo in 2015 after an inspiring trip to study traditional shibori dyeing techniques in Japan. CHI is the Chinese word for "energy", chosen as a symbol of the Asian history of indigo textiles and also the transformative energy that comes from the magic of working with nature's own blue dye. Caroline and David grow Guatemalan indigo (Indigofera suffruticosa) on farms in the Lowcountry of South Carolina near Charleston, the major colonial port for exporting indigo dye made from the same plant variety. Other varieties of indigo can be grown in less hot and humid climates, including Japanese indigo (Persicaria tinctoria) or woad (Isatis tinctoria).
The plants are harvested in fall and processed into dye with an updated version of the small-scale systems used in the 18
th
century (see video on the website). Caroline has built a loyal following of conscious customers for her silk scarfs, table linens, pillows, men's bow ties, woven baskets, and clay jewelry, all indigo blue.

Many have participated in the farm-to-fabric harvest workshops she hosts each fall. Some are inspired to grow the plants in their gardens and create vats to dye their own fabric at home. All become part of a growing community of indigo enthusiasts, devoted to the revival of this beautiful blue plant-based pigment in our lives.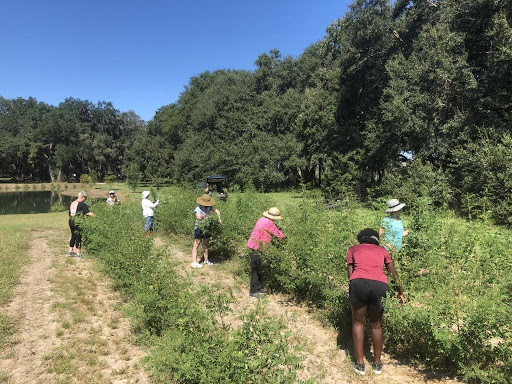 Farm-to-fabric indigo harvest workshop near Charleston, SC.
Image courtesy of

CHI design indigo.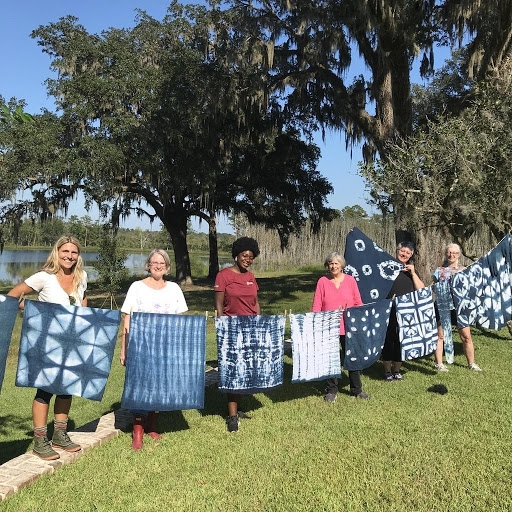 Everyone harvests indigo, makes a dye vat, and takes home a silk scarf they dyed.
Image courtesy of

CHI design indigo.
STELLAR ROOTS GOT DUCKS
by Marie and Kaamilah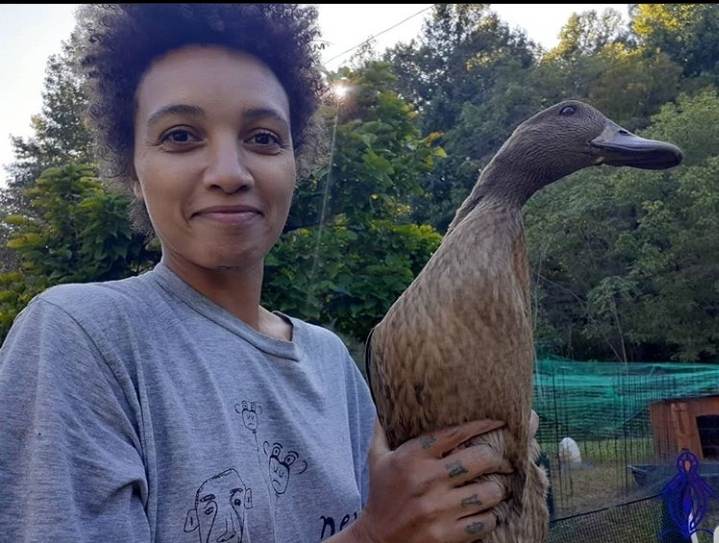 Image courtesy of Stellar Roots
In mid-September we were gifted 4 young adult female ducks that are happy making mud holes and waddling around eating grubs in the yard. We've also harvested sorghum- the tall green stalks of grass originally domesticated in Africa- and removed the leaves, stripped away the sharp outer grass in sections to reveal the sweet cane, and distilled the cane into a syrup. The sorghum grains, called milo, were still young and made a proper treat for our ducks.As we learn to implement synergistic ways of stewarding this land, we're looking forward to adopting a maremma sheepdog puppy (or 2) next year to guard our planned livestock companion population to include goats and donkeys. For the house and farm, there are some items that we are immediately looking for: heat pump installation (quoted $3900) before next summer to avoid mold growth during those hot, muggy months; a trailer home of any size that is habitable, even if it may need a little work; and a farm/land-use vehicle for hauling (small dump truck or trailer great). If you can help any of these items reach us, please contact
stellarrootscoop@gmail.com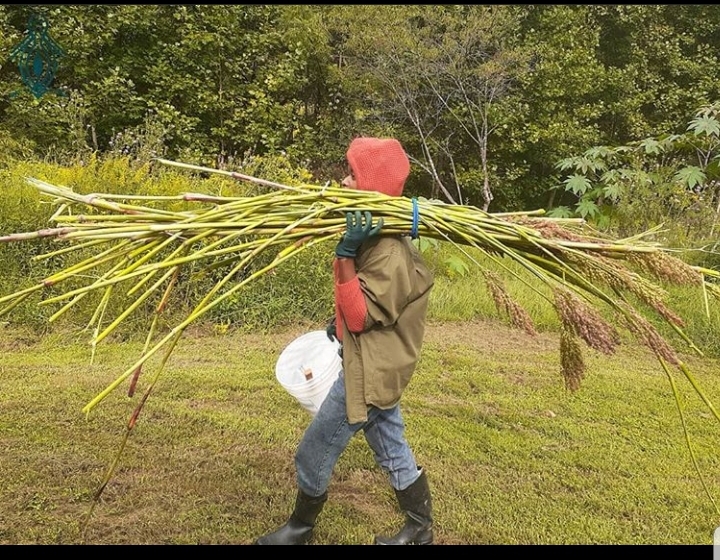 Image courtesy of Stellar Roots
COOKING WITH SOLAR ENERGY
By Sunny Rehler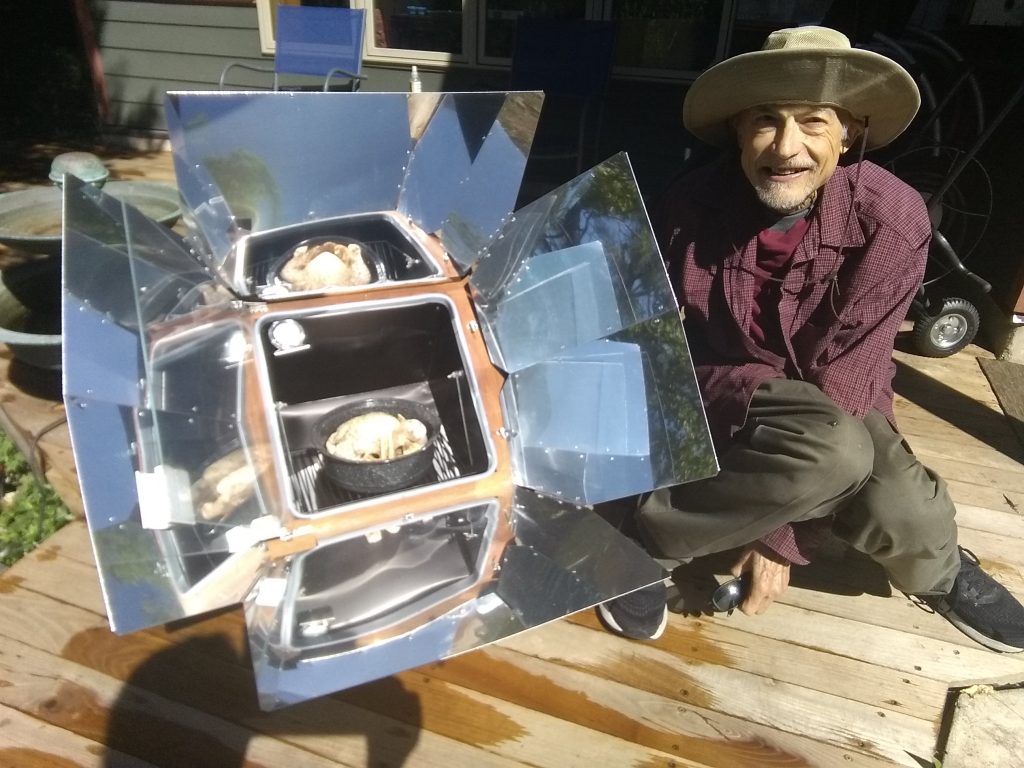 Image courtesy of Robin Becker
Cooking with Solar Energyby Sunny Rehler For the past few months, I have been using a solar oven for cooking and baking here at the Julian Woods Community. At a time when we are striving to reduce our dependency on non-renewable sources of energy, this is an easy way to make use of the free solar energy available to us …
HARVEST HAPPENINGS AT STELLALOU FARM
October 10, 2020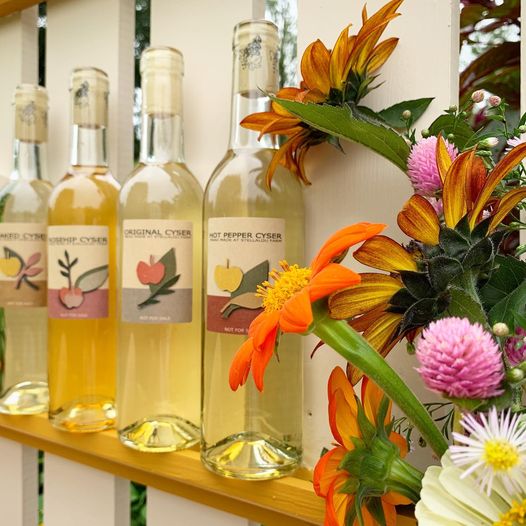 Image courtesy of The Coop at StellaLou Farm
The Coop at StellaLou Farm is offering an autumnal community event themed on the acts of giving and taking from each other and the earth. Join us at StellaLou for pumpkin gathering, art making, and for a special tasting!
OPPORTUNITIES FOR SHARING
Flight from the City: A School of Living Documentary
Matt Tennyson is collaborating with School of Living (SOL) to create a unique documentary to spread the word about communal living. This way of life can be a revolutionary way forward towards a more sustainable, harmonious, and peaceful world. With your donation, we can support Matt to complete the production, editing, and release of this important film.
Stellar Roots
Stellar Roots is a collective of Black, Brown, and Indigenous people rooted in healing and in service of land based community living. They have been operating as a partner of the School of Living Land Trust since 2018 and are working and living on the Itsodi land, a School of Living land trust property. Learn how you can support this project. Note that Stellar Roots is not a non-profit organization and your donation will not be tax deductible.
Empower Project
Please, read our leading article about this, most recent, fiscally sponsored project of School of Living. Your support will help them with start-up costs and materials for their farm as well as to secure their own land.
SOL RECOMMENDS:
Save the date: Steve Hernandez of Pine Ridge Reservation, SD will join us for our monthly Zoomcast on October 7, 2020 at 7-8:30.

Save the date: Bonita Louise Ford will join us for our monthly Zoomcast on November 4, 2020 at 7-8:30.

Keystone Tree Crops Cooperative

is "introducing a model for generating right livelihood and economic equitability for those who work with bioregional tree crops."
Edit this to insert text.