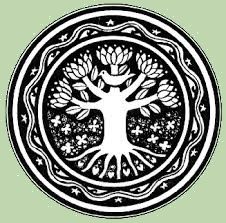 SCHOOL OF LIVING NEWS
Welcome to our School of Living electronic newsletter where you can catch up on what is happening in our land trust communities and SOL committee work.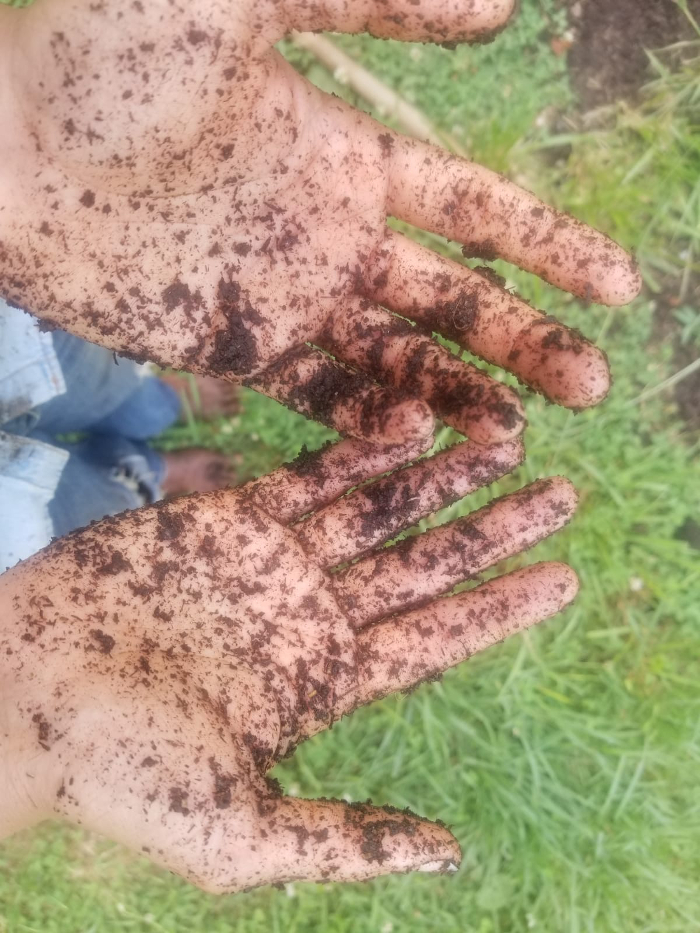 Image courtesy of Stellar Roots from
their second annual Juneteenth Sweet Potato Planting
Mark your calendars!
School of Living Q3 Board Meeting is July 24th via Zoom
Watch for details!
JUNETEENTH CELEBRATION AT STELLAR ROOTS
by Marie Tattiana Aqeel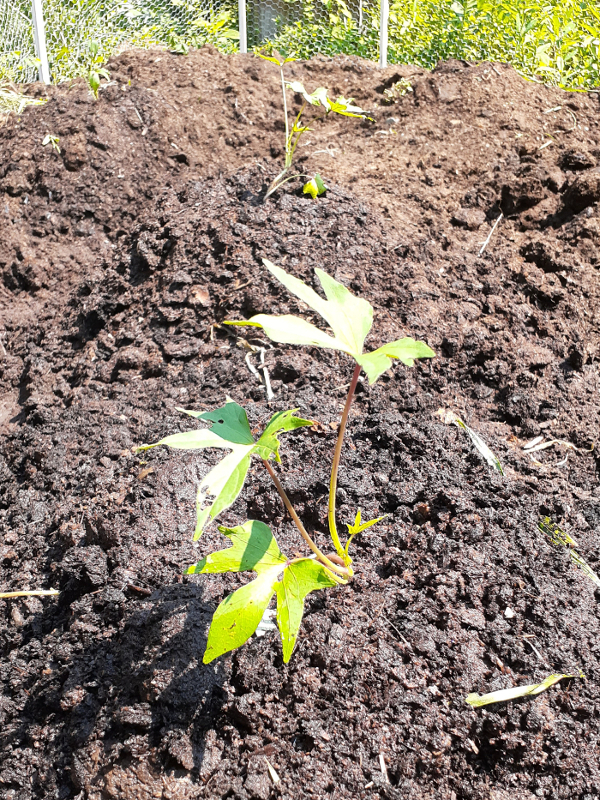 We celebrated our second annual Juneteenth Sweet Potato Planting!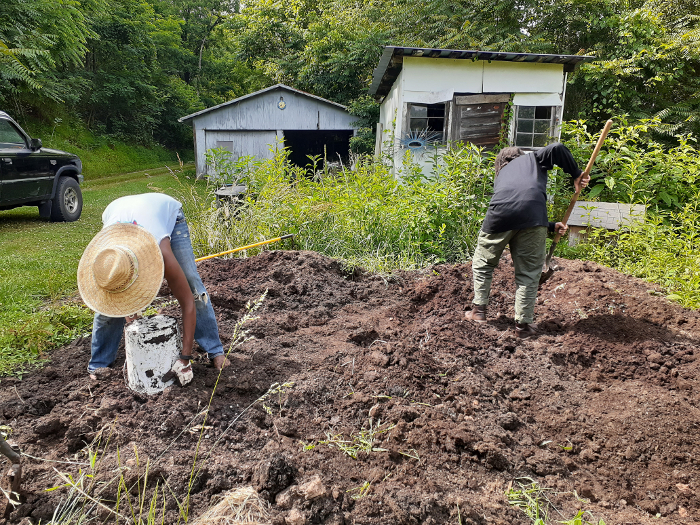 Last year, our comrade Zsameria
was down on the land at Itsodi, and we all planted sweet potato slips together on a date that happened to be June 19. She exclaimed and we agreed that we should continue a ritual of planting sweet potatoes on Juneteenth every year to come. Sure enough, this June 19th rolled around and we had grown some very healthy slips from heirloom sweet potatoes given to us by a homesteader/horse trainer outside Charlottesville. He said these sweet potatoes were bred by a well known man in the area they called the Sweet Potato Man. The Man has transcended into the ancestral realm, but his particular breed of bushing sweet potatoes lives on through us now.
Our good friend, poet Taylor Johnson,
was visiting from New Orleans during this year's planting, and we all shared in the blessed ritual of honoring history and sustenance.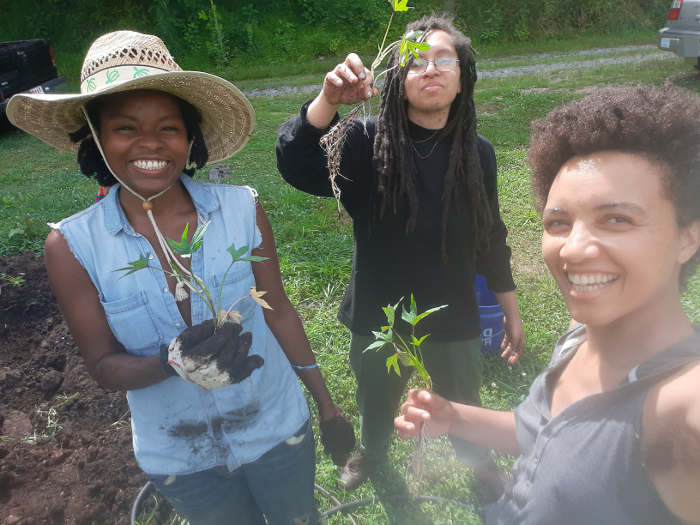 All images in this post are courtesy of Stellar Roots
Stellar Roots is a collective of Black, Brown, and Indigenous people rooted in healing and in service of land based community living. They have been operating as a partner of the School of Living Land Trust since 2018 and are working and living on the Itsodi land, a School of Living land trust property. Learn how you can support this project. Note that Stellar Roots is not a non-profit organization and your donation will not be tax deductible.
PERMACULTURE FOR EVERYTHING
by Hannah LeVasseur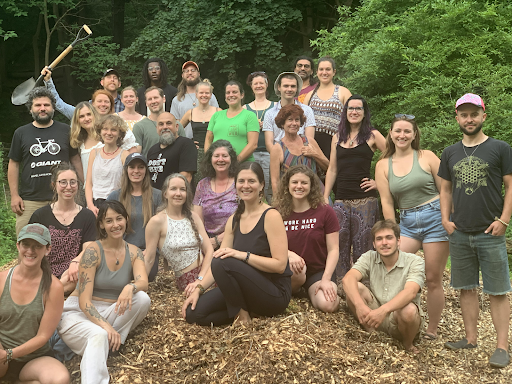 Not all educational opportunities are created equal, and I have found an outstanding one that I feel I must share with the School of Living community!


This spring, I participated in
Bones to Bloom
, an ecological design and permaculture design certification course offered by
Robyn Mello
and
Benjamin Weiss
.


Robyn and Ben have packed the course with guest speakers, field trips to nearby permaculture sites, hands-on activities and practices, and meaningful accounts of personal interests and experiences. This sold out class was composed of students traveling distances upward of 2.5/3 hrs, of diverse backgrounds, stages of life, and interests.


Each consecutive Sunday that we gathered was filled with information that covered permaculture and the information necessary for using it in our current world. This course stands out in its exploration of how permaculture, as a thought process, can change our inner and outer landscapes, beyond (and including) your personal garden space.


After 10 weeks of digesting both enjoyable and challenging readings, presentations, and tools, we gave our final presentations. The range of projects presented are a great testament to the inclusive thinking about permaculture shared by Robyn and Ben. Social systems as well as landscapes, investigations of transportation, businesses, and homesteads were all included in the variety of projects which earned a new batch of more than 20 students their permaculture design certificates.


The system I explored for my final project was the community building and retention of The Coop at StellaLou Farm, one of the School of Living's fiscally sponsored projects. The feedback from my ambitious fellow students, Ben, and Robyn, was encouraging and I am passionate about employing the tools outlined in the project. There is no pretense about this course or project being easy or a formality. This is the building of foundational understandings with incredibly supportive teachers who are brave and dedicated to their own permaculture ambitions.


I wholeheartedly believe that the information I was bestowed this spring will continue to trickle into my practice as a being on this earth and a steward of StellaLou Farm for years and years to come. I hope that some of the sparks of connections made with my fellow beings, both human and beyond, will be maintained and nurtured in time as well.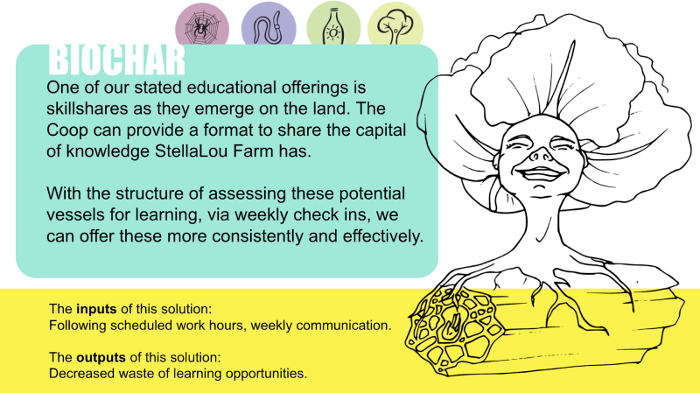 If you have interest in finding solutions to the ecological and social systems you live in and the resources to take this course (even if it is a stretch), I encourage you to do so.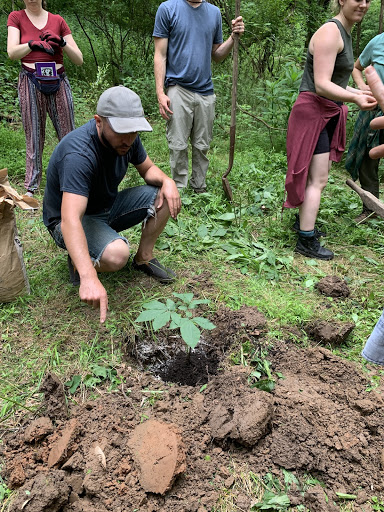 Images courtesy of Hannah LeVasseur
JULIAN WOODS COMMUNITY GIVING SUMMER TOURS OF THEIR GREENHOUSE SYSTEMS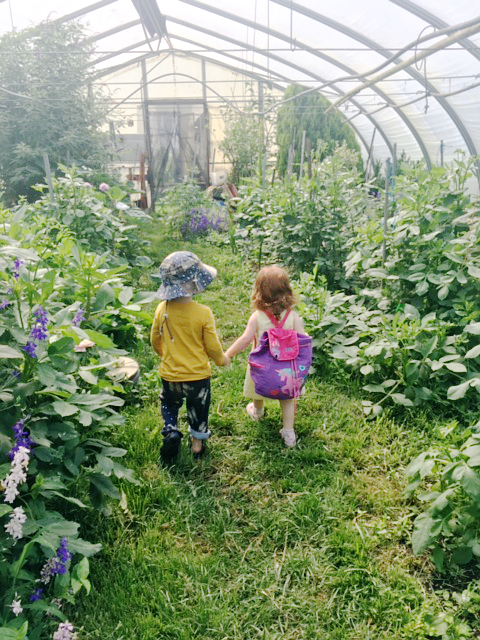 Image courtesy of Deborah Fisher
JUNE'S PROMISE OF ABUNDANCE:
RITA JANE'S VIRGINIA GARDEN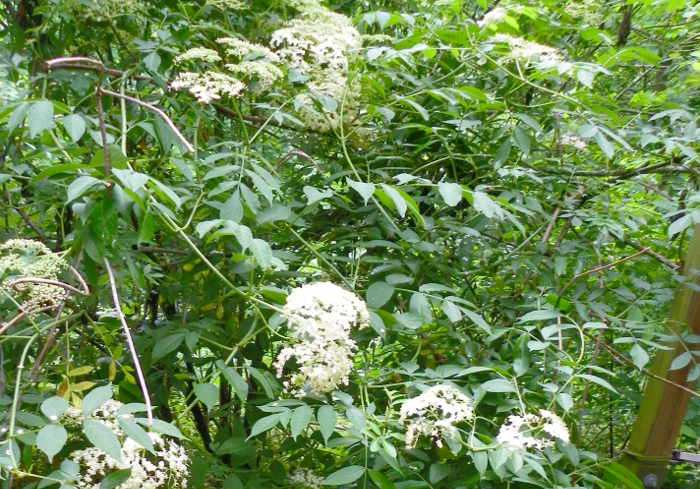 Elderberries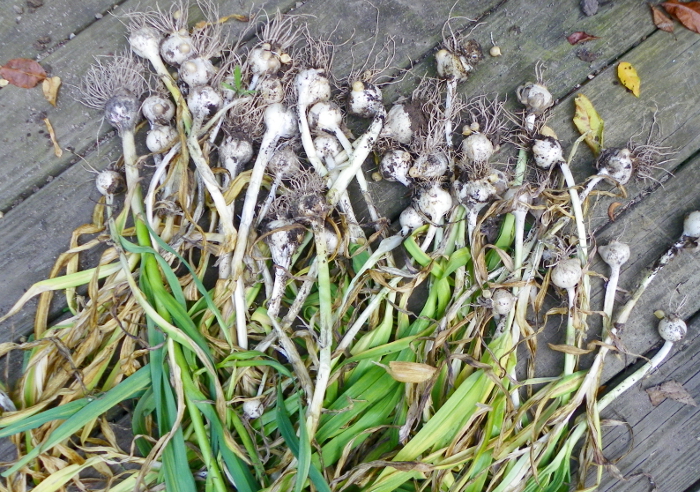 Garlic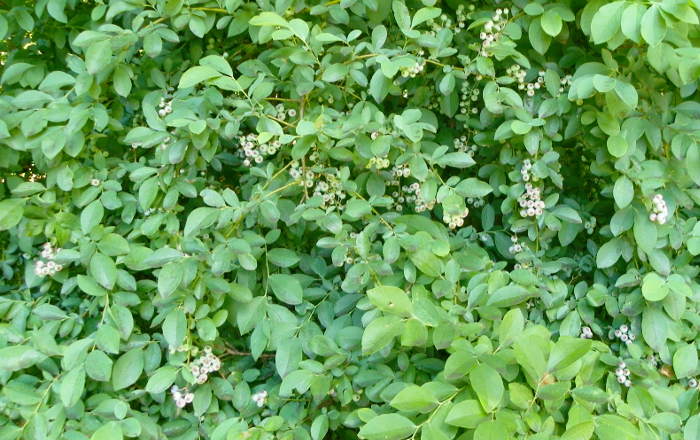 Blueberries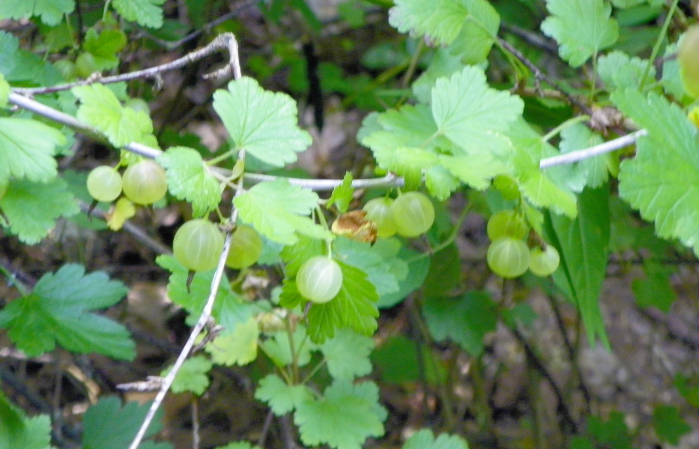 Gooseberries
Images courtesy of Rita Jane Kiefert
BALTIMORE THRIVE WITH ALANNA HARTZOK
School of Living Zoom Event
Wednesday, July 7, 2021 - 7 to 8:30 p.m. EST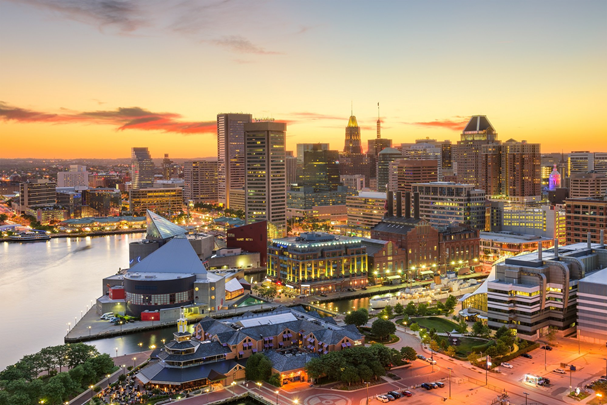 We are so happy to have School of Living's long time friend, Alanna Hartzok, speak to us about Baltimore Thrive. This initiative brings a vision of restoration and renewal for Baltimore. It prioritizes strengthening land rights and social and racial equity in Baltimore's communities. It seeks to do this through clear programs, plans, and policies that are built on principles of decentralized politics and economics.


Alanna will sketch a picture of Baltimore Thrive for us using information about community land trusts, land value tax (commons rent), citizen dividends, 15 minute cities, and public banks. Alanna views this work as carrying forward the legacy and vision of the School of Living founders for peace and justice.


Baltimore Thrive is a desperately needed alternative to "business as usual" economic revitalization planning in urban communities. Find out how you can help to bring Baltimore Thrive to reality. Donations for this work are appreciated. There will be time in this information packed presentation for questions. Bring your notebooks!


While there is no charge for this Zoom event, we appreciate your donation to help support the work of School of Living. Upon registration, you will receive a link to join the Zoom event. If you do not see the email, please, check your spam and/or promotions folders. Message us if you have any questions!
FOUNDATION FOR INTENTIONAL COMMUNITY IS HOSTING ERIC JACKSON FOR A FREE WEBINAR: REPARATIONS, REPARATORY JUSTICE & COMMUNITY LAND TRUSTS
July 1st | 6:00-7:30pm Eastern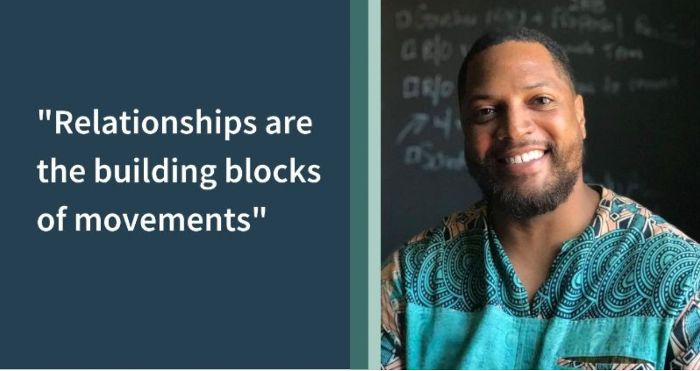 Image courtesy of Foundation for Intentional Community
The SOL education committee was fortunate to host Eric for one of our Zoomcasts and we highly recommend joining this conversation on reparatory justice and race relations within intentional communities. If you would like to look back to our conversation with Eric or our other Zoomcast recordings, you can find them here.
The newsletter archive lives under the "Publications" tab in the primary menu of the School of Living website. From there, you will be able to access each newsletter and use its link for sharing. Contact mvelicky@schoolofliving.org if you need any assistance in retrieving these newsletters.
Edit this to insert text.