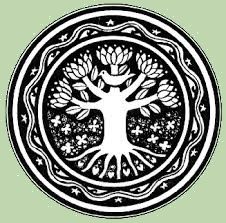 SCHOOL OF LIVING NEWS
Welcome to our School of Living electronic newsletter where you can catch up on what is happening in our land trust communities and SOL committee work.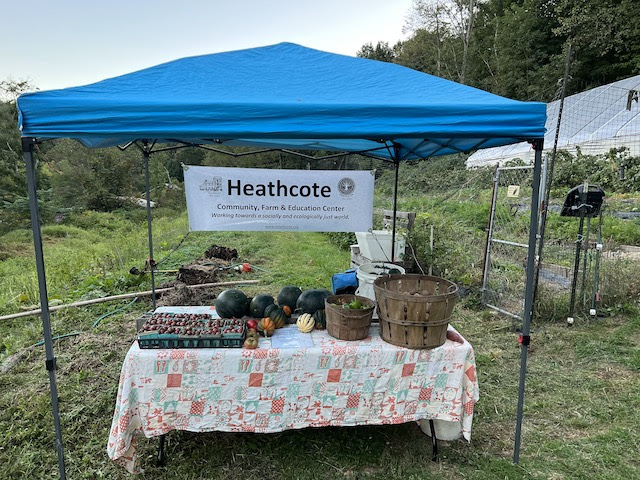 Image courtesy of Heathcote Community
School of Living Q4 Board Meeting
October 15-16, 2022 at
StellaLou Farm in Cochranville, PA


Saturday, Oct 15, 2022
9:00am - 12:00pm Q4 Board of Trustees Meeting
12:30pm - 1:30pm Lunch (potluck)
2:00pm - 5:00pm Public Birdhouse Gourd Craft
5:00pm - 7:00pm Public Dinner & Bonfire
(potluck dish appreciated)

Sunday, Oct 16, 2022
8:00am - 9:00am Breakfast

COVID Policy
All attendees must screen themselves for illness, and stay home if they have
any symptoms
. Additionally, stay home if you have had close contact with someone who has tested positive for covid.


Board Meeting Attendees must take a covid test prior to their arrival the morning of the meeting
,
and stay home if it is positive. This allows for more cautious SOL members to feel safe about meeting indoors, and StellaLou Farm wants to welcome everyone interested!

Staying over?

StellaLou Farm is happy to host any campers! Please email stellaloufarm@gmail.com to let us know to expect you and your tent or van! At this time, we do not have any indoor accommodations.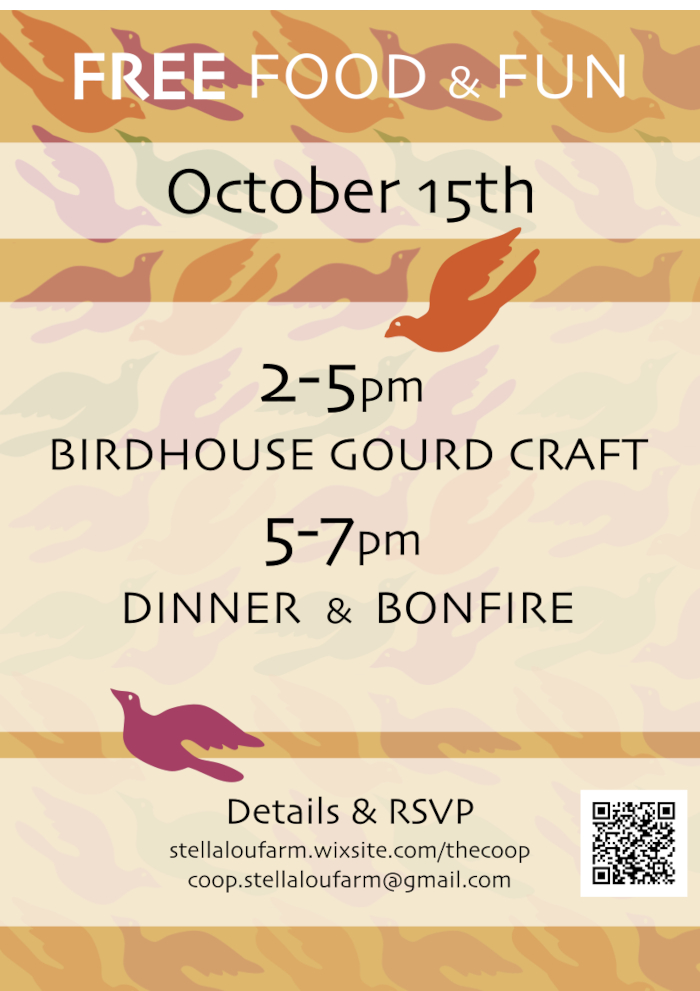 QUARTERLY BOARD MEETING SCHEDULE:
2023 Q1:
January 22
,
Zoom
2023 Q2:
April 29-30, Heathcote Community
2023 Q3:
July 22-23, Julian Woods Community
HEATHCOTE COMMUNITY FARMSTAND
OPEN SATURDAYS AND SUNDAYS 12-6 PM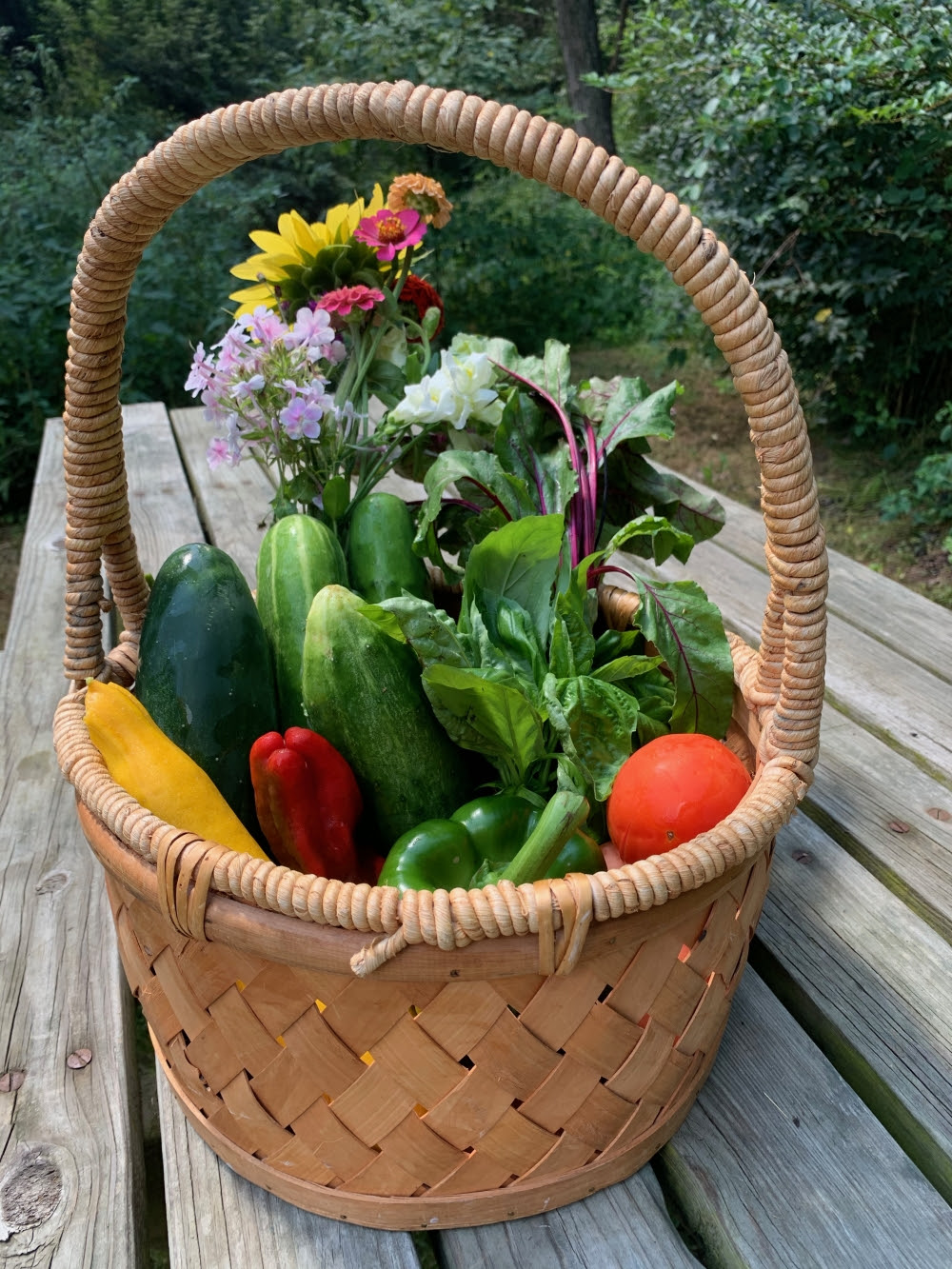 Image courtesy of Heathcote Community
Hi Everybody,

This is Matt Belmont, the grower at Heathcote Community Farm, and I'm pleased to announce our fall farm stand! In order to be able to better tend to our gardens as well as my various part-time jobs and family, I've decided to make this a self-serve honor system farm stand. I find this very appropriate given how honorable you folks tend to be. In order to reduce administration time, we've decided to make this operation in person only with no online ordering.


The following is a list of our wonderful fall crops that are just waiting to meet you:
Rainbow carrots - $2 for a 2-lb bunch

Cherry tomatoes - $4/pint

Potatoes - $3/ two lbs.

Cucumbers - $1/large cuke or equivalent

Watermelon, Sugar Baby - $3/medium

Winter squash, Acorn - $1/each

Chard - $3/bunch

Scallions - $2/bunch

Flower bouquets - $5/each

Herbs: rosemary, thyme,

sage, oregano, basil,

lavender - $2/bunch


Our watermelons, squash, potatoes and raspberries have been particularly enthusiastic this year. You'll also love our fall carrots and herbs. Not to mention our gorgeous signature flower bouquets. If you're so inspired by what we have that you want to learn more about how we grow it, we have farm internships available plus a series of fall workshops on various agricultural topics. You're also welcome to volunteer on the farm. Please email info@Heathcote.org for more information.
Happy equinox everyone! Hope you are having a wonderful start to your autumn.
Matt Belmont
Grower
Heathcote Community Farm

P.S. Black Locust Hops Farm Brewery is open up on the hill next door to Heathcote where you can try local craft beer and delicious food from FlexiLicious Street Food!
HOW TO MAKE PICKLED BEETS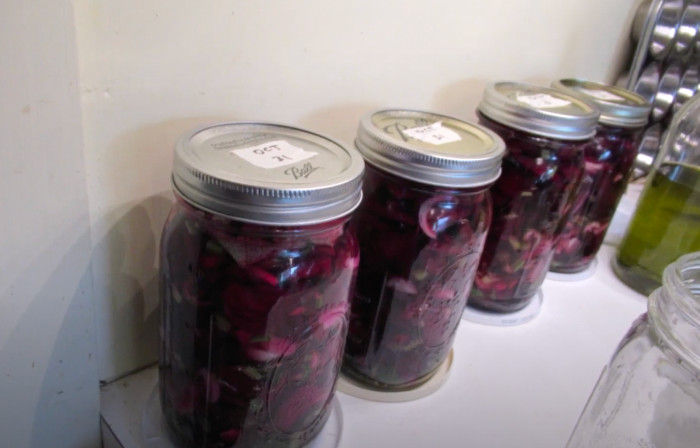 To view the "How to Make Pickled Beets" DIY presentation, CLICK HERE! This p
resentation is courtesy of
www.neo-terra.org
and Gene Bazan who is the star of the video. The videographer is SOL member, Julian Vitaglione. Gratitude to the both of you!
MARK YOUR CALENDARS: COMMUNITY EVENTS
WORKSHOPS HOSTED BY HEATHCOTE EDUCATION CENTER AND HEATHCOTE COMMUNITY FARM
Yoga For Gardeners

Oct. 9, 11 am - 12:15 pm

Sustainable Gardening for Marginal Sites

Oct. 9, 1 pm - 4 pm

Ecological Forest Management & Appreciation

Oct. 23, 1 pm - 4 pm

Shiitake Mushroom Cultivation

Nov. 20, 1 pm - 4 pm

All Workshops by Heart Donation

Suggested $25 - $75 per workshop
RSVP at Info@Heathcote.org
UPCOMING WEBINARS FROM HEATHCOTE EDUCATION CENTER IN PARTNERSHIP WITH CHEARS and STEAM ONWARD:

Co-Learning To Grow and Eat Low Environment Impact and High Health Foods.
This will be on ZOOM on Saturday, October 8th at 4 PM
Preliminary Schedule for Second Saturdays ZOOM Workshops:
November 12: Steam Onward Youth Community Research Project and Rediscovering Our Seed Heritages

January 14: Implementing Project Drawdown Land Sector Solutions

February 11: Systems Thinking and Stella Modeling our Outcomes

April 8: Seed Farming Heritage Seeds for the Future

June 10: Co-operative Structures and Sharing Our Co-Learnings at a Community Summit (All Partners)


CLICK HERE for additional information, contacts, and registration

SUCCESSION FERMENTORY: GRAND OPENING EVENT AT STELLALOU


SUCCESSION Fermentory is a brand new farmhouse brewery founded by Keith Hartwig and Justin Kerber and is located at StellaLou Farm in Cochranville, PA. They have built something special in their commitment to supporting regional agriculture and sustainability. SUCCESSION creates adventurous beers that are truly reflective of the places in which we live, work, and play; using 100% local and seasonal ingredients. We can't wait for you to experience the flavors yourself and, on October 8th, you will have your chance!


On October 8, 2022, StellaLou will be hosting the grand opening of Succession Fermentory. You can find all the details and purchase tickets at SuccessionFermentory.com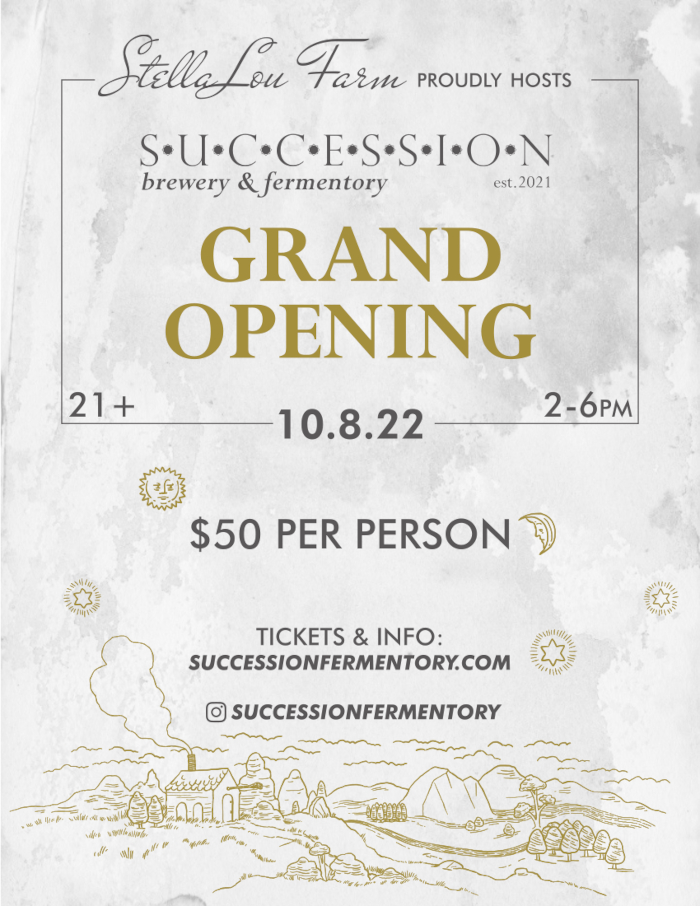 SCHOOL OF LIVING COMMUNITIES WELCOME INQUIRIES AND VISITS
September 10, 2022 from 1 to 5 pm.
You're invited to Heathcote's (Maryland) monthly Visitor Day! Come see the community, share a vegetarian potluck meal, and socialize with community members. All are welcome.
Stellar Roots, (Virginia) a collective of Black, Brown, and Indigenous people rooted in healing and in service of land based community living, is open to visitors and inquiries. You can contact them here.
StellaLou Farm is a four generation homestead in Southeastern Pennsylvania. We welcome visitors and inquiries. You can contact them here.
Common Ground Community welcomes inquiries. Please, contact Ben with your interest and questions.
Julian Woods Community in Julian, PA welcomes visitors and inquiries. Please, contact Deb Fisher. A beautiful photo story about Julian Woods can be found here.
YOU CAN HELP
Stellar Roots is a collective of Black, Brown, and Indigenous people rooted in healing and in service of land based community living. They have been operating as a partner of the School of Living Land Trust since 2018 and are working and living on the Itsodi land, a School of Living land trust property. Learn how you can support this project. Note that Stellar Roots is not a non-profit organization and your donation will not be tax deductible.
The newsletter archive lives under the "Publications" tab in the primary menu of the School of Living website. From there, you will be able to access each newsletter and use its link for sharing. Contact mvelicky@schoolofliving.org if you need any assistance in retrieving these newsletters.
Edit this to insert text.