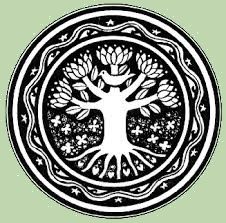 SCHOOL OF LIVING NEWS

Welcome to our School of Living electronic newsletter where you can catch up on what is happening in our land trust communities and SOL committee work.
THE PERFECT MORNING
by Rita Jane Kiefert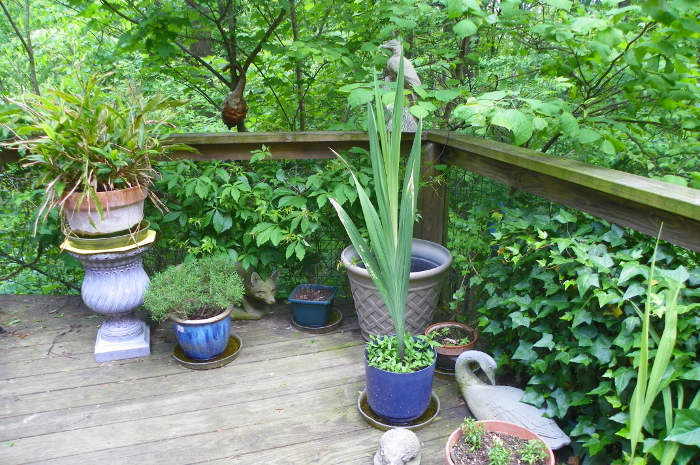 Image courtesy of Rita Jane Kiefert
This morning I got out of bed some time before my husband who I left sleeping peacefully. I half dressed in leggings but no jeans, turtle neck but no sweatshirt, socks with slippers not shoes. I put on my fuzzy robe and a warm crocheted hat I made recently and took my sweet homemade decaf iced tea onto my deck. I sat with the warm sun at my back and worked on my latest knitting project in the warm soft breeze. The sky was blue and contrail free, with thin puffs of cloud drifting lazily along. The trees have turned fully green but the leaves are fresh with spring and recently rained on and clean. The breeze makes the leaves dance and chatter softly to themselves. The creek gurgles in the background from down the hill. The deck is recently rearranged for the summer with herbs and flowers among the statues of critters. The Virginia Creeper is once again engulfing the patient gargoyle on the railing over the small round table that holds my tea and my supplies. A hummingbird buzzes around the feeder and the small birds twitter about the gardens. A Red Tail Hawk puts an end to the small birds chatter as it circles overhead calling its shrill call as it circles. The sun shines through the hawk's feathers giving proof to the red of the tail feathers as it flies. "Aho cousin. Thanks for the show." As I am putting the last stitches in my project my husband emerges to kiss me and tell me he loves me.
JUNE SOL ZOOMCAST
Rose Hammerman
Free Range Education
June 3, 2020 at 7-8:30
FACE MASK SAGA
by Evelynne Merrymet
By the time you read this I will have made over 125 face masks in the last few weeks. I am now working on version 6.0 and counting. Keep those suggestions coming folks. A non-profit I work with, the School of Living, asked me to write up how I make the masks for their …
WINDOW OF OPPORTUNITY
By Matt Tennyson
Charles Eisenstein's article "The Coronation" spoke to me about the chaotic, divisive, and tumultuous time we are all experiencing to varying degrees regarding the Covid-19 crisis. It acknowledges the varying possibilities of what may become of this predicament without claiming to have the exact answer as to what is "really" going on. I found this perspective to be incredibly honest and refreshing, because everywhere I turn, it seems someone else claims to have all the right answers but no level of humility to admit they may be completely wrong. This crisis is incredibly complex, and even the foremost experts in which we are supposed to trust have been wrong about their assertions numerous times. The main point I resonated with in his piece was the notion of a window of opportunity. It's the idea that the Covid-19 crisis has given the world time to slow down, think about what we've been doing, and decide collectively if this is the kind of world we want to continue putting energy into. It's a fork in the road where several paths are possible. One involves a tip-toe scenario into a totally digitized surveillance grid of control, giving away our freedoms and rights to allow governments around the world to enact Orwellian-style systems of population management under the guise of safety. Another scenario involves embracing our humanity, creating a more holistic, abundant, and balanced world where we listen to and incorporate dissenting views, care for each other, respect our differences, and live in harmony with the natural world. The choice is ours. We can choose to embrace total, top-down control of nearly every aspect of our lives, or we can choose to modify our systems towards empowering individuals to be sovereign, intelligent, caring, compassionate, and well-rounded citizens of the world. Which path will we take?
WALK-ABOUT
by Ann Wilken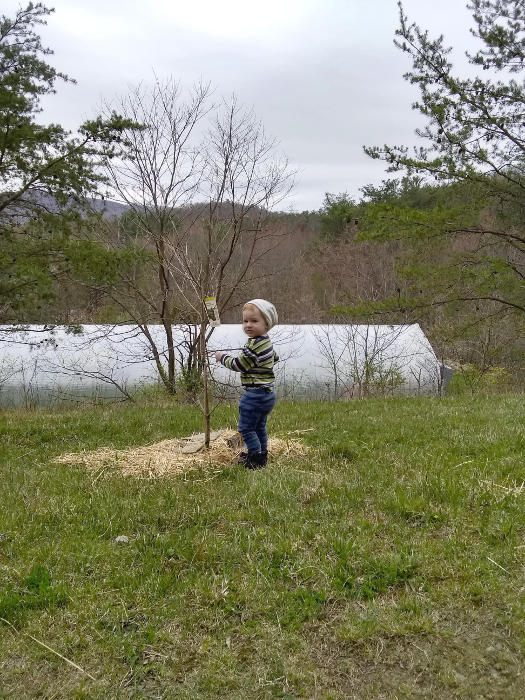 Image courtesy of Ann Wilken
My husband passes away…my best friend declares she loves her solitude…the world turns upside down with physical distancing and masking and sheltering-in-place…What to do? Walk-About!
Since early Spring, a couple times each week, my little friend Finn and I have been going for a walk-about at our home in Julian Woods Community. We start in my garden with a freshly pulled carrot. I thought deer had eaten all the fall carrots last year, but they are coming back from being safely underground all winter. Finn tugs hard, pulls one up, and washes it in the questionable watering can at hand.

Then we head for the house in the woods where Finn's PapPap lives. Visiting with the old man is a treat for us all. On PapPap's outdoor concrete deck, Finn races around in his little red push car and dances to PapPap's music. I get to sit on a deck chair with my legs up on a padded stool. PapPap loves to tell his animated stories to a willing listener. Before leaving, we struggle through a masked diaper change on the comfort of the deck's wicker love seat.

From there, Finn and I head for the woodland trails. The Mossy Trail leads deeper into the woods and follows the contour of the steep hill above the stream that runs through Julian Woods. The trail ends at the Penny Tree, a huge Eastern Hemlock riddled with Sapsucker holes, where we've been hiding copper pennies in the rough bark notches, adults and children alike, for the last 35 years. Another trail, Chi Lane, named by our departed friend John, is grass covered and runs along the hillside contour above our community water lines. There is a spot along this trail where Finn often decides to plop down on the earth – full body and cheek to the ground…I have no idea what inspires this, but it is lovely to watch and to giggle with him.

Eventually we find our way downhill to the pond and to the stream that feeds it. This involves climbing down steep banks, muddy stretches of spring outlets, with sudden, unexpected stops along the way for sticks, stones, pine cones, wildflowers, worms, and more. Finn, almost 2 ½, has no problem navigating any of this terrain. If he slides part way, it's all the more fun.

At the pond, Julian Woods members recently installed a brand new, locust covered aluminum dock. This project took the adult members of the community about two years to agree upon (size, shape, materials, supplier, when, why, who, etc). But we did it in Julian Woods style. Robin did the research and purchase, Deb and Katherine did some fundraising, Robert and Tom milled the locust, Kent cut and fitted the boards to the frame. Then on one special afternoon came the tractor parade to the pond – Tom and Dale, each on their tractors, carrying the large pieces of the dock down to the pond, followed by the lucky walkers who happened to be on the road for a safe 6ft apart stroll. With no apparent plan in mind, the group of us (with tractor help) pulled the 35 year old dock out of the water, and then connected and installed the two halves of the new dock. Onlookers took photographs and affectionately mocked the wild work-group.


Finn's favorite activity at pond or stream is, of course, throwing stones and leaves in the water to watch the splash and the ripples. As soon as the weather goes above 70 degrees, I may get him to try a little canoe ride with me. For now, it is time to head uphill to his home. But wait! Jeannie and Robert are sitting out in their flowering yard watching the chickens on the ground and the birds in the trees. This means a visit with more of our extended family and friends. After some chicken chasing, Finn and I are both on our feet again, spurred on by the promise of Mama, Grandma Deb, and new friend Caleb waiting for us at home. When we arrive, Finn gets hugs and a nap, and I stroll back uphill to my own home – quiet, peaceful, and not as lonely as when I left.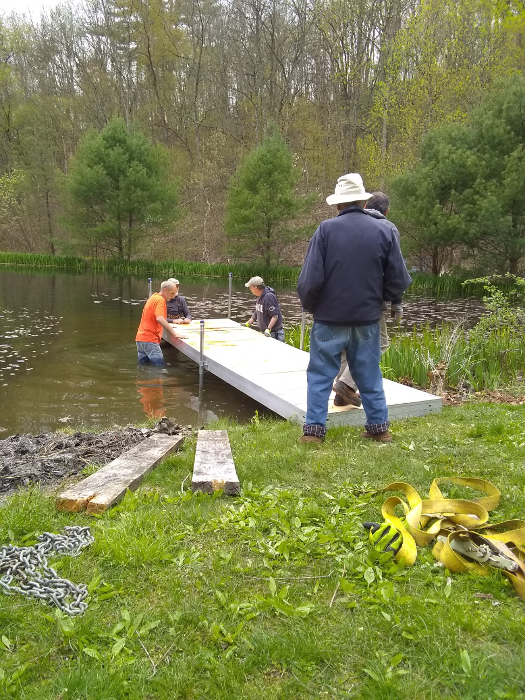 Image courtesy of Ann Wilken
Post Script: If you are a young family looking for a shared life in community, or if you know someone like that, we'd be pleased to talk with you about Julian Woods Community. Contact Ann at
abwilken0451@gmail.com
FLIGHT FROM THE CITY: A SCHOOL OF LIVING DOCUMENTARY
Matt Tennyson is collaborating with School of Living (SOL) to create a unique documentary to spread the word about communal living. This way of life can be a revolutionary way forward towards a more sustainable, harmonious, and peaceful world. With your donation, we can support Matt to complete the production, editing, and release of this important film.
NOTES FROM THE LAND COMMITTEE
Submitted by Ann Wilken
School of Living's Land Committee oversees our Community Land Trust and has been very active and moving forward on our highest priorities during the last several months. Stay-at-home orders can produce some surprisingly welcome results...We have had very interesting and productive negotiations with Ahimsa Village Community in getting to a final draft of their lease re-write. This draft will soon be sent to our Centre Co. PA attorney for final edits, then signatures, and then filing in Centre County Courthouse. We honed our skills at negotiating fairly, honestly, and creatively with our lessees and long-time community friends Bob Flatley and Kelle Kersten.
A lease clause that we found in the Common Ground lease, and inserted in the new Ahimsa Village lease concerns how a lease fee may be impacted by an unnatural economic cycle. If this

occurs (specifications are included in the clause), Land Committee will re-negotiate the lease fee so as to

temporarily alleviate hardship on the lessee.

Another new development concerns our next priority project - completing the lease with Stellar Roots LLC for the Itsodi land. Stellar Roots was very recently set up by Rae Basile and associates as an LLC based in Virginia - reflecting their transition away from a purely urban based cooperative and closer to a land based cooperative. We look forward to completing their lease and strengthening connections with this newest partner in our Community Land Trust.
CALL FOR GRANT SEEKERS
Submitted by Admin Committee


The School of Living Board of Trustees and Admin Committee would like to identify individuals in our SOL community who are interested in seeking grants for SOL.
We hope that all members will review this document which outlines the variety of roles necessary for successful grant seeking. You may be surprised to find your strengths listed here; it is more than just writing!


If you are interested in joining the pool of SOL grant seekers, please contact
hello@schoolofliving.org
with the following information:
Experience with any part of a grant seeking process.

Preferences and/or areas of expertise. This could pertain to parts of the grant seeking process or content area.

Time, knowledge, or other limitations.

Volunteer or payment needs.
SOL RECOMMENDS
Free Nonprofit Webinar: 10 Tips and Tricks for a Successful Grant Seeking Strategy, June 2, 2020 at 1:00 p.m. EST

Save the date:

July 1, 2020 at 7-8:30 for the next monthly SOL ZoomCast!

New Relational Uprising online training schedule for 2020. Applications due
Edit this to insert text.