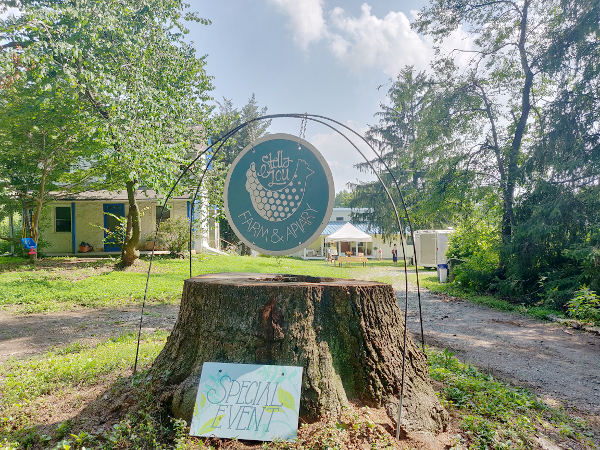 ​
July 2019
Welcome to our School of Living electronic newsletter where you can catch up on what is happening in our land trust communities and SOL committee work.
BETTER TOGETHER
by Michaelann Velicky
Image courtesy of StellaLou Farm
The Coop at StellaLou Farm had its first community event, "Better Together," during the SOL July 2019 quarterly meeting. We made the necessary preparations for the very hot weather that was predicted. Shady trees, sprinklers, ice and water, misters, and the availability of an air conditioned retreat were all helpful. Clare Burkhart provided home made ice cream using his 1939 John Deere tractor. That sure was key to bringing the cool! However, it was the expression of creativity, collaboration, and joyful enthusiasm from our local community members, visiting friends, and partners that truly made the day a successful one! Thank you for a fantastic day at StellaLou Farm!


Image courtesy of StellaLou Farm
All the members of School of Living that participated in Better Together. You jumped right in to help with preparations and to share, generously, with heart and hands!

The Little Free Library Cochranville which partnered with us for summertime storytelling under the shade of the oak tree.
Spice and, our neighbor, Dennis Melton, who engaged the talents of all ages to make merry with music and singing.

Our neighbor, Daniel, and his children who walked their mama goat and her sweet baby to our farm to spend the day in the shade of the Linden trees. Everyone fell in love!

Baltimore artists, Diane Yu and Natalie Drutz, who engaged our participants in weaving a magical passage through the bamboo.

Our resident Coop member, Hannah, for her artistic vision in recognizing our little duck house as the perfect canvas for community collaborative expression.

Eric Allard and Cassandra Germano who gave lessons in swing dancing for every level of experience. They delighted anyone who stepped into the hot and swingin' barn with their energy and skill! ​

​
Image courtesy of StellaLou Farm
​
Image courtesy of Brenda Carr
We had such positive feedback from our neighbors and participants that the Coop plans to open its doors annually for a community land-based arts event.
During our July quarterly meeting, School of Living members had the opportunity to take a field trip to the homestead of SOL friend, Dale Hendricks. Dale has created a permaculture site that excites every visitor. He has a passion and talent for inspiring creative and collaborative action toward building regenerative systems with regard to the environment, human communities, and living economies. Our SOL members were able to see examples of natural and passive solar building, native perennial plant propagation, re-wilding, food forests, regenerative agriculture, biochar and soil building, rainwater catchment, alternative energy solutions; and, of course, awesome social spaces where the fun happens!
​


Images courtesy of StellaLou Farm
The board met for 2 hours on Saturday morning. Some of the highlights of that meeting included:
A report from the Land C

ommittee: They are, actively, working with Tightshift to finalize the lease on the Itsodi land. There was a productive discussion about land use with regard to mineral rights and forestry on community land trust property. We hope to bring you an informative article about this in the near future.

Update on Praxis Committee work: There was a discussion regarding how SOL can bring our commitment to social justice into action. Some thoughts included:

Provide more opportunities for collaborative work such as the "Better Together" arts event

Continue to acknowledge and pursue our work, inwardly as well as outwardly, with regard to our social and racial biases

Encourage article and video discussions

Host film screenings

Provide opportunities for hands on work with diverse groups

Share knowledge and experiences through the SOL newsletter

The School of Living board acknowledged Herb Goldstein for the important role he plays on the Land Committee. He consistently provides critical and detailed knowledge and research regarding the legal structure of our community land trust properties and lease agreements. The board recognizes a need to have that information available for next generations.

Some of the solutions that were brought forward included:

Create an internal, private wiki site that can develop over time.

It could hold information such as:

Online FAQ document

Descriptions and definitions

Documentation of questions and answers that arise in our work

Documents: leases, agreements, maps, etc.

Create a cloud-based archive of documents that can be a backup for Herb's library of notes and documents

Teaching/training workshop

Create a document archive at each community

Seek an intern (law student or lawyer) that can help organize and archive Herb's knowledge and documents
Image courtesy of StellaLou Farm
This year, StellaLou Farm planted a three sisters garden. We are so pleased that we did. We highly recommend giving it a try if you haven't already done so. The three sisters provide beauty, complexity, and productivity while being relatively low maintenance. In a nutshell, a three sisters garden is a companion planting strategy in which each plant can provide support for the other plants. Together, these plants bring more productivity to the homestead than if you were to plant each on their own. We planted 3 rows, each with 4 corn and bean mounds and 3 squash mounds. There are many designs for this type of garden. We used something like what is described in this guide. We used transplants for the corn and squash. It is important to wait until the corn is at least 5-6" high before planting the bean seeds. For our garden we used:
SOL MEMBERSHIP CAMPAIGN
Paul Levasseur from the Membership and Elections Committee has helped to create a better SOL membership subscription process through MemberPlanet. The membership link will bring you to an electronic form. Renewing your membership or joining SOL in this way will automatically put you on our member list. You can choose your level of membership on the form. There is, also, an option on that form to automatically pay through your bank or with your credit card each year. It makes the process convenient and trackable. Your participation in this will support SOL in a very significant way.
​
We are asking our members to renew, now, if you haven't done so already. If you are not a member, please, join us! To renew your membership or join School of Living, click on this link.
​
August 2 – 4, 2019 – Twin Oaks Queer Gathering: The Queer Gathering is a weekend of LGBT+ fun, learning, workshops, networking, revelry, and more! This event is a safe and supportive camping event for queer folks and allies of all ages to come together, skill share, make art, build community, dance, and organize. Hosted by Twin Oaks, an intentional community of 100 people sharing their lives in central Virginia. If you would like to learn more or register, check out their website at www.twinoaksqueergathering.org.
August 3, 2019 – Kids Day at Julian Woods Community hosted by Turtle Way and Debs Flower Farm

October 18-20, 2019 – School of Living quarterly meeting – Location to be announced. Stay tuned.
​​
REQUEST FOR CONTENT
by Michaelann Velicky
It has been a lot of fun editing this newsletter. Month by month, I grow in appreciation for School of Living, its members and communities, values and mission. I wish to be able to bring the widest range of experience from our communities to our members. That means, I need to hear from you! Some of the content possibilities include (but are not limited to):
Event/conference recommendations

Book/film reviews/recommendations

Community happenings

Births/deaths/transformations

Nature notes

Garden notes

How to's

Permaculture work and experiments

Recipes

Poetry

Photos

SOL Committee happenings
Looking forward to hearing from you! Contact me or send material to stellaloufarm@gmail.com