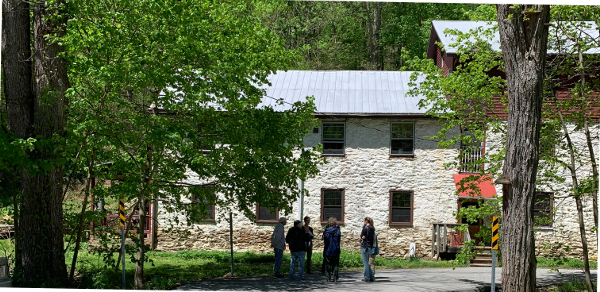 ​
School of Living News
May 2019
Welcome to our School of Living electronic newsletter where you can catch up on what is happening in our land trust communities and SOL committee work.
APRIL'S MEMBERSHIP MEETING
April's annual membership meeting was hosted by Heathcote Community. Following are some of the highlights from the gathering.

Potluck
School of Living potlucks are simple, collaborative, nutritious, and delicious! Our community meals during quarterly meetings are especially good opportunities for catching up with old friends and making connections with new members.


​
Image courtesy of StellaLou Farm
​
Board Members & Officers
SOL is happy to announce the results of our recent elections and board member additions. It's wonderful to see new members taking on these roles! In upcoming newsletter editions we will strive to introduce you to the people that bring fresh energy and ideas to our organization!
President: Seth Wheeler (Please, see Seth's post below.)

Vice President: Brenda Carr

Treasurer: Jerome Liss

Assistant Treasurers: Ann Wilken, Herb Goldstein

Clerk: Allison Basile

Assistant Clerk: Paul LeVasseur

Convener: Jerome Liss

Assistant Conveners: Allison Basile, Brenda Carr
2020 Paul LeVasseur (CLT resident)

2020 Alison Basile

2020 Will Pierson

2021 Deborah Fisher (CLT resident)

2021 Jerome Liss (CLT resident)

2021 Courtney Dowe

2022 Kara Ullman

2022 Seth Wheeler (CLT resident)

2022 Matt Tennyson
Executive Co-Directors
Karen Stupski and Courtney Dowe have been approved by the board to be Executive Co-Directors. They have prepared the scope of work for these positions.
Devotion to Social Justice
Approved, by consensus, a 6th SOL value, "Devotion to Social Justice", will be added to the Preamble of the Bylaws as follows: "In order to fulfill its primary purpose to assist adults in the study and use of the accumulated wisdom of humankind, the School of Living, through its educational programs and activities, shall strive to include the experiences of all people. SOL shall honor the lived experience of the historically and currently oppressed as a necessary source of wisdom to guide the work of collective liberation. SOL shall learn and strive to practice theories and processes that support the creation of a more socially just and sustainable world." The Praxis Committee will be working on a plan for SOL communities and the organization as a whole to put the 6th principal into practice.
​
Black Locust Hops Farm Tour
Karen coordinated with nearby Black Locust Hops to provide a tour of their farm and hop production. This was an educational event presenting an excellent example of a local land-based sustainable enterprise. Please, see the post below to learn a bit more.
2019 Board Meeting Dates and Locations
Q3 2019: July 7/19 – 7/21 – Stella Lou Farm

Q4 2019: October 18-20 – Common Ground Community (tentative)

Q1 2020: Jan 24-25 (zoom) – Conference call

Q2 2020: April 24-26 – Urban location with Heathcote Community as rural operation
Image courtesy of StellaLou Farm
Black Locust Hops gave a tour of the farm and spoke about their hop growing and processing methods with SOL members on a beautiful sunny Saturday. They planted their first hops in 2006 and used sustainably harvested locust trees from their land to build the impressive hop trellis system that you can see in the image above. They modified or created many of the tools and equipment needed for processing at their scale. ​They plant many varieties of hops seeking those that thrive best in the climate and conditions of their farm in Northern Baltimore County. They have been expanding each season and try to utilize sustainable and local resources in the process.
​
Image courtesy of StellaLou Farm
The innovation and commitment that is evident in their work is inspiring. Thank you Black Locust Hops for sharing! Cheers!
FROM SETH WHEELER, SOL PRESIDENT
​
Image courtesy of Seth Wheeler

SOL Board & Members,
​
Thank you for your gracious acceptance into the SOL family and what an amazing privilege it is to serve as President on the board. I first learned of the School of Living several years ago when I farmed a season at Sonnewald, spending many sunny days walking the land and talking with Grace or Willa. Learning of the mission and practical efforts of SOL has been inspirational to say the least. Being with nature and farming with my Grandfather as a child was such a gift and helped shape my motivations later in life, contributing to SOL is an amazing opportunity to honor those moments.

After serving in the Army as a security specialist and presidential escort, I began a career in real estate development and finance, then moving on to designing, remodeling, and constructing houses for developers and contractors. Around 2008, I decided to live according to my heart which was a lifestyle of ecological stewardship and service to those who need help. It has been incredibly enriching to aid in the empowerment of people from all walks of life by teaching them about the joys of growing their own food, building and repairing their own houses or creating their own renewable energy systems. These goals further manifested as helping to start the Baltimore Free Farm, working with the Transition, Occupy and Black Lives Matter movements and then professionally incorporating these experiences to build high efficiency agricultural and renewable energy systems for Living Classrooms, the National Arboretum, Univ. of District of Columbia, ACCE School, Independence School and many other farms and organizations.

This amazing adventure has led me to Heathcote where I reside with my family; Krysten and our 6 month old son, Logan. As a very active member here, I plan to utilize my experience to develop and implement regenerative agriculture and forestry management practices for educational purposes as part of a novel three year revitalization plan. Becoming involved with the School of Living, whose mission is aligned with my own, is highly invigorating to the efforts here at Heathcote as well.

I hope to see SOL successful in its mission of education of practical living and ecological stewardship and I hope to offer some pragmatic experience in these regards. It is exciting to be able to work with all of the incredible people I have met or have yet to meet, thank you again for everything you do and it will be a pleasure to learn from you all.

As a mentor of mine would say; "May the wind blow on our backs and the sun shine upon our faces."

Warmest regards,
Seth Wheeler
Image courtesy of Julian Woods Community

A small group at Julian Woods Community recently embarked on a new project we are calling "Friends for Finn", or 3F. Since 1975, Julian Woods has had a stable and slowly growing membership. During the years when many of us were forming families and raising young ones, we were also learning to work together to strengthen our relationships, stewarding our land, and building our community infrastructure. But the one area where we have struggled more recently is how to bring young adults and families back to Julian Woods. This is the focus of our new 3F project.

Along with our elders and energetic 50 something's, we have one family.
Finn was born in 2017 to Katherine who grew up at Julian Woods, and they both live with Grandma Deborah amidst chickens, flowers, and gardens. This energy has reminded us that young adults and families will create a diverse human community to help grow and sustain Julian Woods into our future.

​Image courtesy of Julian Woods Community
Julian Woods does not currently have living spaces available for new community members, but there is a growing potential for this. We anticipate that over the next couple of years, one or more of our homes will be available for sale, and our 3F project group wants to be ready with a list of people who have expressed membership interest. These are some ideas we are currently exploring:
Updating our listing at the FIC website (Federation of Intentional Communities)

Hosting Family Day(s) at the Pond

Starting a Julian Woods Facebook page

Contacting local realtors with our specific needs and timetable​
Do any of you readers have other ideas for us? Do you know any young adults or young families who might be looking for intentional community in the Central PA area? We'd love to hear from you. You can contact Ann at abwilken0451@gmail.com or Katherine at Katherine.a.fisher@gmail.com
BALANCING BODY, MIND, AND SOUL WITH
MUSIC AND MOVEMENT
by Sunny Rehler
Image courtesy of Three Leaf Farmden
In March I participated in a workshop called "Brain, Body, and Spirit: Connect the Three with Music and Movement". It was taught by the Director of Music Therapy at Penn State, Dr. David Frego. As we listened to David play the piano music, we were encouraged to create various movements in time with the music.

David's facilitation was based on Eurhythmics, which simply means "good rhythm" or, loosely "mindful movement". Such mindful movement performed in coordination with music has many benefits. Among the benefits are concentration, self-control, social integration, sensitivity, creativity and relaxation.

It should not be surprising that Eurhythmics is used all over the world in schools and universities with programs in music. It has even been found to have healing effects when taught to adults suffering from PTSD or post-traumatic stress syndrome! (1) I recall feeling many of these healing effects as a result of the workshop and began looking for similar opportunities.

Soon after the above workshop, I attended a similar one called "Rhythm Unlimited". It was taught by Bennett Hoffman, who is a current resident of the Julian Woods Community and a self-taught musician from an early age. Bennett reinforced many of the concepts, which I had heard in the earlier workshop.

At the end of April, I had another opportunity when I attended "Moved by the Beat, a Transformational Drum Circle". It was an all day gathering in Port Royal, PA, which included a drum circle, a delicious plant-based meal and kirtan. Kirtan is a spiritual practice, involving "call and response" singing of a mantra. A mantra is a sound or a series of words, which have calming, almost hypnotizing effect on the mind.
Image courtesy of Three Leaf Farmden
The host of the gathering was Yasoda Mensah, who is the Director of "Three Leaf Farmden". Three Leaf Farmden is a holistic health center, which offers vegan cooking classes, weed wisdom walks and various workshops. The topics of the workshops include several holistic healing techniques, as well as Bhakti-yoga, meditation, and healing drum circles.

Some of us stood up and danced during the drum circle as we drummed. The effects of the music and dancing were all the more powerful, I think, due to fact that it was held outside on a beautiful sunny day.

It is my hope that some readers of this article may be interested enough to look for opportunities to incorporate more music and mindful movement into their lives. For readers, who live within driving distance of State College, PA, they could consider attending the Intergenerational Community Fair at the State College Friends School on Saturday, June 1 from 10 AM to 4 PM. It is free, open to the public and will have lots of fun activities, including drumming and dancing! For more information, visit State College Friends School. Just click on the box "MORE" and scroll down to "Intergenerational Friends Fair"!
"Meaningful Movement, A Music Teacher's Guide to Dalcroze Eurhythmics" by Marla Butke and David Frego (2016 by MIE Publications)

We are most grateful to Three Leaf Farmden for allowing us to use the several photos, which illustrate this article. For more information, check out: www.ThreeLeafFarmden.com or visit them on Facebook.
We welcome your involvement in and support of our work. Follow this link to become a member of School of Living or to renew your membership.