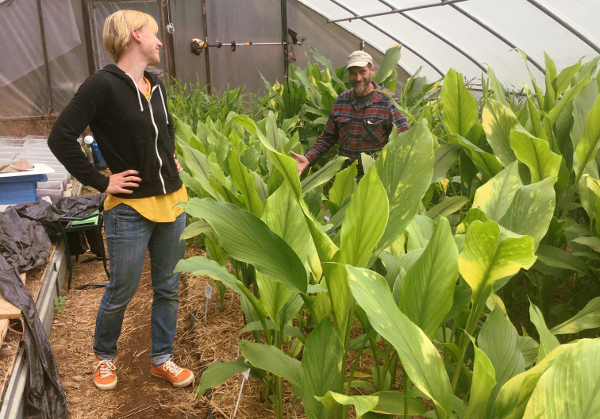 ​​
October 2019
Welcome to our School of Living electronic newsletter where you can catch up on what is happening in our land trust communities and SOL committee work.
OCTOBER QUARTERLY MEETING
The School of Living Board and active members
gather in the conference room in
​the Heathcote Community mill house

The October 2019 quarterly meeting was at Heathcote Community in Maryland. It started on a Friday afternoon with the land committee meeting and an opportunity to step outside to walk the land. A note of progress was the new roof on the farmhouse which was funded with a $12,500 loan from the Community Growth Fund.

The Board Meeting was held on Saturday morning and included the following discussions and decisions:
In effort to support the communities on SOL land trusts, Taylor Quilty will be helping to facilitate mediation efforts between Heathcote and Seth Wheeler and his family. Board members interested in participating should email Taylor Quilty.

The board discussed the operations and responsibilities of School of Living Fiscally Sponsored programs. The board decided fiscally sponsored programs must notify the Ethical Finance Committee of grant proposals they intend to submit. The Administrative Committee will review quarterly reports (including all financial transactions) from fiscally sponsored programs. Additionally, it was clarified that fiscally sponsored programs are (and have been) required to disclose to the School of Living if a donor requests donation information/confirmation.
The board reiterated that SOL committee meetings are open to all School of Living Members.
The board was reminded to set up their School of Living G-suite account if they had not already done so (this will enable use of Google's collaborative tools such as shared drives and calendars).
Seth and Hannah created a community report form. The form will be sent next quarter to all communities, and subsequent quarterly forms tracking changes/ongoing efforts will be sent.
With regard to 2020 planning, the board resolved to focus on two priorities: fundraising and educational activities.
The board discussed the roles of the Executive Director and decided to set grant writing as Executive Director's primary responsibility. Other School of Living administrative tasks will be responsibilities of the Office Manager or will be delegated to the appropriate committee.
Membership Directory Policy:The board agreed that the membership directory should be kept internal to School of Living. Members are welcome to contact each other, and are encouraged to contact the publications committee with any relevant commercial business they would like included in the newsletter.
The board decided to make mentors available to new board members. The Membership and Election Committee will compile a list of potential mentors for when new members join the board.
The board scheduled the 2020 Q4 meeting at StellaLou on October 9-11.
After our potluck lunch, Seth Wheeler, with support of the administrative committee and the education committee, gave a presentation about the new Community Report Form (see following article). The presentation was recorded (thank you, Matt Tennyson!) and we hope to have that available to you very soon.

Before sharing an evening meal, SOL members had a chance to walk the land and to visit the greenhouses, the turmeric and ginger plantings, the woods, the barn, and the ducks. It was wonderful to share and talk about the hopes, challenges, efforts, and transitions that were happening at Heathcote community. Thank you for hosting, Heathcote!
​

The gear assembly for the old mill, continues to stand in the Heathcote mill house
COMMUNITY REPORT FORM

By Hannah Levasseur
At the board meeting and during the educational program we discussed a more thorough method of gathering community information. After the discussion, some changes to the proposed form were made. We ask that if you are a member of an SOL community, you review this electronic form and document.

The SOL board, admin, and education committee recognize that completing this form will take time and energy, which is a precious resource. We are viewing the sharing of your practical living methods as a valuable educational tool with the added hope that this will be a personally beneficial reflection tool for your community. This information can help School of Living understand the successes and challenges that SOL communities are experiencing with the goal of providing relevant support.
Image courtesy of StellaLou Farm
The information that you share on the report will not be shared outside of the SOL community without your permission. Thank you in advance for your openness and generosity.

The introductory statement on the form contains the ideas behind this move, please take the time to read it. We will pilot the use of the attached form for next board meeting. I will send out a reminder to complete the form at the end of this quarter and am happy to provide any technical support you may need. If you have any questions or comments, you can email me at this address.
HIGHLIGHTS FROM SOL'S FISCALLY SPONSORED PROJECTS

From Turtle Way:
This September Turtle Way hosted an Herb Walk at Julian Woods Community with local herbalist, Jennifer Tucker. Jennifer shared her immense knowledge of many common "weeds", which have healing and nutritive properties. We learned the importance of proper identification of an herb. Some plants, such as ground ivy, (Glechoma hederacea) have a very distinctive scent. This herb, which grows prolifically around here, is very good for helping to remove heavy metals from the body. After our walk around the pond, we had a discussion and learned more about the preparation of herbs, such as how to make tinctures, salves and vinegars. I was inspired by this workshop to possibly have a series of herbal gatherings next year.
Image courtesy of Turtle Way
Image courtesy of Turtle Way
From The Coop at StellaLou Farm:
The Coop hosted a "Making Plantable Paper" workshop. We were so pleased to have Libby Soffer, a local artist, facilitate this making event. After giving us some history of paper, we jumped in to make our own. We used recycled papers as well as organic materials that we found in nature. We focused on using seeds that we saved or gathered so that the paper could be used and then planted. The process was simple but the possibilities for creating unique paper was endless.
Image courtesy of The Coop at StellaLou Farm
​
Image courtesy of The Coop at StellaLou Farm
TURMERIC SALES
AT HEATHCOTE COMMUNITY

Images courtesy of Heathcote Community
​
WORKSHOP COLLABORATION
With education being held as a priority for School of Living, a collaborative google document has been created. It is a brainstorming opportunity and it is a survey. What skills and knowledge do you or your community have to share? What would you like to see offered? Here is the link to the editable google document. Please contribute your ideas!
MEMBERSHIP
To renew your membership or join School of Living, click on this link.